Boxes
Frog Box
Two cute little frogs perch on lily pads.
It's just possible that one of the frogs is really a Frog Prince.  Maybe if you kiss the frog you'll find your prince.
This box is just the right size to hold jewelry, remote controls, etc.
9″ x 7 1/16″ x 2 5/8″
$50.00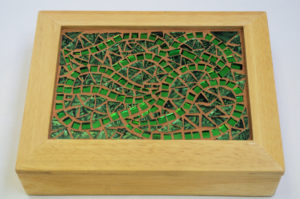 Leaf Box
If you look closely you'll see a subtle pattern of leaves on this box.  The leaves are made up of green Van Gogh glass and bordered by green mirror glass.
$65.00
Tree Box
The branches of this tree are surrounded by fall foliage.
6 1/4″ x 8 3/16″ x 3 3/8″
$65.00