2D Mosaics
Autumn Tree
14 1/8″ x 15 1/2″
You can almost feel the gentle breeze as the leaves fall from this autumn tree.
The mosaic is bordered with discs cut from a branch of one of the maple trees in my yard.   I coated the discs with polyurethane to protect them.
Part of Epic Systems art collection.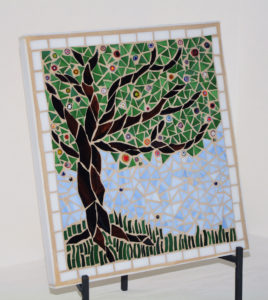 Millefiori Tree I
 12 1/8" x 13 5/8"
This stained glass mosaic tree has millefiori blossoms.  Millefiori is Italian and means 1000 flowers.
This tree could be something right out of a fairy tale.  Or maybe it's in the garden of a wizard.  Some say it reminds them of the trees with candy blossoms in Charlie and the Chocolate Factory (Willy Wonka).  What does it evoke for you?
$275